About Fourth Crossing Wildlife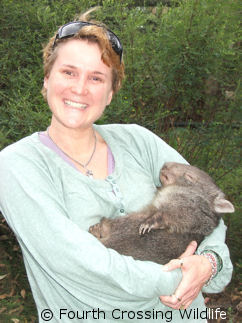 My wildlife training...
Advanced Macropod Rehabilitation
Possumwood
Advanced Birds
ACT Wildlife
Wombats Through Space and Time Conference (presenter)
Hands on Wildlife
Safe Snake Handling Course
Koala Hospital Port Macquarie
Dave Pinson and Connie Kerr
Flying Fox and Microbat Training
Wildcare Australia
Koalas (Orphaned Joeys) Workshop
Victoria University
Certificate III in Captive Animals (Wildlife Husbandry and Rehabilitation)
Macquarie University
Conservation, Welfare & Handling of Australian Marsupials
Central West Community College
- Deliver Training Sessions
NSW Government
How to Become a Better Communicator
National Koala Conference
- New Sourth Wales x2
National Wombat Conference
- New South Wales
National Wildlife Rehabilitation Conference
- Queensland
- Western Australia
- Darwin
- Canberra
- Adelaide
- Tasmania
- Melbourne
Philip Pain
Raptor Rehabilitation
WIRES
Raptor Caring Course x2
Sonya Stanvic's
Possums, Juvenile to Adult
Caring, Rearing and Rehabilitation of Marsupials
Western Plains Zoo
- Caring for Wombats
Lynda Staker's
Don't Step Backward
Marcropod course
Creator and owner of Fourth Crossing Wildlife - Linda Dennis

My passion for Australian native animals was kick started around 25 years ago with my very first raptor experience at Eagle Heritage near Margaret River in Western Australia. After an up close and personal experience with a Black Kite perching on my gloved hand I vowed that I would soon work closely with these magnificent creatures
Some years later I held true to the vow and I become licensed to raise and rehabilitate native animals that had been injured, were sick or orphaned. And, with the help of my husband Todd, I have now been experiencing the joy of wildlife care for just just over 20 years.
In 2003 I created Fourth Crossing Wildlife which started out as a place to share my care knowledge, photos and stories on of native animals. It has since grown to become the wildlife carers best friend with quality care guides and short term care tips easily accessible by people (and critters!) in need. Many highly experienced wildlife carers contribute to FCW, including veterinarians and zoo keepers.
I have cared for many Australian native animals including several species of macropod and possum, various reptiles and many species of bird including my beloved Birds of Prey, of which I specialised in for 3 years. I had the immense pleasure of successfully rehabilitating and releasing many Birds of Prey including the awesome Wedge-tailed Eagle, Nankeen Kestrel, Collared Sparrowhawk, Peregrine Falcon, Black-shouldered Kite and more.
I have had the enormous delight of raising Bare-nosed Wombats, my all time favourite critter! These short and stocky bundles of energy and bravado have become my ultimate passion in life! Our first wombat Tici - with very little effort - took over a large part of my heart and I have been hooked on wombats ever since.
In 2004 I recognised that there was a gaping hole in my region in the area of public education relating to Australian wildlife and so I established Fauna First Aid, a program teaching vet nurse students at Orange TAFE how to properly care for native animals in a veterinary care situation. In 2005 I extended the program to include school age students - highlighting the dangers involved in handling wild animals and to show what Mum & Dad could do during short term care periods.
In June 2005 Fauna First Aid became a project sponsored by the Australian Geographic Society - a very humbling and proud moment.
Other institutions such as IFAW and the Australian Wildlife Society have also recognised my wildlife work, which I am eternally grateful for.
My wildlife volunteer work...
The Australian Wildlife Society Regional Advisor
The Australian Wildlife Society Newsletter Editor (now finished)
The Wombat Foundation Webmaster (now finished)
Northern Hairy-Nosed Wombat Hair Census x2
Norrthern Hairy-Nosed Wombat Caretaking
Western Ringtail Possum Mortality Study
Port Macquarie Koala Hospital Volunteer
The Wombat Protection Society of Australia Webmaster and Director (now finished)
WA Australian Seabird Rescue Webmaster (now finished)
NSW Wildlife Council Steering Committee member (now finished)
My wildlife awards...
​
WPSA Serventy Conservation Award Runner Up
IFAW Welfare and Education Award​